A Portchester Hero of Trafalagar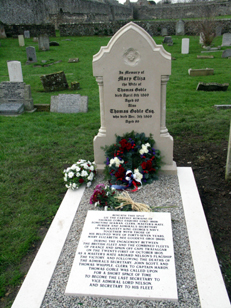 Most visitors to St. Mary's Church in the grounds of Portchester Castle used to walk past a fallen headstone near the entrance to the church without a second glance; little knowing that buried there is a man who fought alongside Nelson at the Battle of Trafalgar!
Sadly, Thomas Goble's tomb collapsed and was filled with earth to make it safe. In 2004 the headstone, which was almost unreadable, was lying flat upon the grave. Early in 2005, Richard Andrew's, a churchwarden and member of the Portchester Civic Society, mentioned at a Society meeting that St.Mary's church was having problems funding the restoration of the grave. As this was the 200th anniversary of the Battle of Trafalgar the Society decided to take on the restoration as a project and raise the money to restore the grave.
A raffle and donations started the fund but a major boost to the project came when the chairman of the Portchester Civic Society, Hazel Woodman, opened her garden in White Hart Lane
to visitors for the weekend. The garden was themed in red, white and blue to promote the project and donations received during the weekend pushed the project's funds to over £1,000. Eventually, with a generous grant from Fareham Borough Council of £500, over £2,500 was raised, the headstone was refurbished and the grave restored. An inscribed plaque was placed on the grave detailing Thomas Goble's connection with Nelson and the Battle of Trafalgar.
On the 5th December 2005, the anniversary of Thomas's death, a re dedication ceremony was held at the graveside, attended by some of Goble's relatives, supporters of the project and the Commanding Officer of HMS Victory.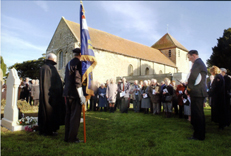 The Re-dedication service - Picture courtesy of the NEWS
Thomas Goble was only 25 when he joined HMS Victory off Cadiz, just two weeks before the Battle. He served as a Master's Mate and carried the slate, recording the signals sent from the flagship during the battle. Sadly, John Scott, Nelson's Secretary, was killed at the beginning of the battle and young Thomas Goble was quickly promoted to Secretary to the Fleet. Shortly after, Nelson himself was struck down by a musket ball and died about three hours later. In Benjamin West's celebrated painting of the death of Nelson, Goble is portrayed looking down at the dying Nelson.
Surviving the battle, Goble was made a clerk and was Secretary to Captain Hardy. The following year he was appointed as a Purser. After Trafalgar he was awarded Prize Money of £44 4s 6d and a Parliamentary Award of £108 12s 0d, quite a sum in those days! He was discharged from the Victory in 1806, but continued to serve in the Royal Navy until 1825. In the late 1840's the Naval General Service Medal was issued and Thomas Goble was awarded this medal with the Trafalgar Bar. Thomas Goble is alleged to have had quite a fiery disposition and was twice court martialled during his naval career, the second time resulted in him being thrown out of the Navy.
Thomas married Mary Eliza Goodeve in 1822 at St. Mary's Portsea and in later life owned several properties in Portchester but lived at 63 High Street
, Fareham. They died within a few months of each other in 1869, Mary, at the age of 68 and Thomas, aged 89, and are buried together in the Castle.
Contributed by Paul Woodman
_________________________________________________________________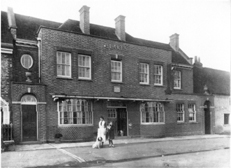 A book published round about 1925 and titled 'Portchester Castle' by Cooke, referred to the Pubs in Castle End that have since reverted to private dwelling houses, there only being one still left, The Cormorant. Of this Inn, it was stated that it had a career but no chronicler; and that it was a place where cock and rat fighting took place in the bars and that the house was a keen supporter of the famous Wicor smuggling gang. Hoping that the brewers would have a drawing, or better still, a painting of the old place, I wrote to Brickwoods and asked for their help. There came back a letter which made me wonder, stating - We have no pictures of the early Cormorant and only a drawing of the altered premises dated 1928. The name Cormorant was applied in 1824 or 1815. Our deeds show the premises as a public house in 1814 and as a public house bearing the sign of the Cormorant in 1815. It does not appear to have been a public house before 1814 since a conveyance of 1812 refers to it as a messuage, tenement garden only.' Cooke states in his book that the place was at one time known as the Swan, where did he get his story, that I would like to know?
S. BROWN Portchester
Contributed by Sue Bell
---
Hampshire Archive Trust, funded by the Heritage Lottery Fund, have produced a publicly accessible, virtual photographic archive of 10,000 images of aspects of life in Hampshire over the last 100 years or so. Portchester Civic Society contributed over 200 images to the project from its extensive collection. Details can be found on the Hampshire Records Office website.
Contributed by Paul Woodman
---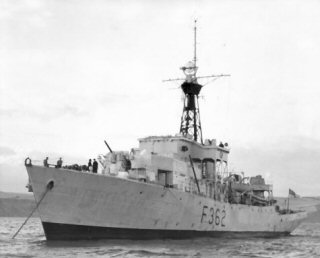 Built by Swan Hunter and Wigham Richardson Ltd. at Wallsend-on-Tyne, the corvette HMS Portchester Castle, K362, was laid down on 17 March, launched on 21 June and completed on 8th November, all in 1943. She had a displacement of 1100 tons, a complement of 96 and a top speed of 16.5 knots. Armament consisted of one 4 inch calibre Mk XIX gun, two 40mm anti-aircraft guns in a twin arrangement, two 20mm guns in a twin arrangement, one Squid three barreled anti-submarine mortar and two depth charge launchers.
Allocated to the Western Approaches Command from Christmas Day 1943 until the end of the war, she served initially with Escort Group B1, then B7 from February 1944, B4 from late April 1944 and finally with the 30th Escort Group from 8th September 1944 until the end of the year, based throughout at Londonderry. Engaged in escorting Atlantic convoys until September 1944 she took no part in a successful anti-submarine action until the day after she joined the 30th Escort Group. On September 9th, 1944, HMS Portchester Castle, along with the frigate HMS Helmsdale, depth charged and sank U484 off the north west of Ireland. Some reports state that the U743 was destroyed in this action but the wreck of U743 was found in 2001 and is now thought to have been lost due to collision with an unknown vessel. The following month, on 11 November, she is also credited with taking part in the sinking of U1200 off Cape Clear, south of Ireland.
HMS Portchester Castle underwent a lengthy refit from 1st January until 1st May 1945 but saw no further action. In mid-June she was allocated to the West African Command as an Air Sea Rescue vessel and served from early July until 1st October 1945, when she left for Gibraltar to take up similar duties, leaving Gibraltar in the New Year 1946. She proceeded to Harwich where she was laid up in reserve.
In 1945 the Portchester Castle was in Freetown, Sierra Leone when she was called upon to assist in the sinking of the liner Edinburgh Castle, built in 1910, which had been used in the port as an accommodation ship for naval personnel and survivors of sunken vessels. As towing back to England would not be cost effective, the Edinburgh Castle was towed 60 miles out to sea and sunk by gunfire and depth charges from the armed trawler Cape Warwick and the corvettes Portchester Castle and Lancaster Castle.
In April 1951 she was prepared for service and after commisioning on 15th May was allocated to the 2nd Training Squadron, based at Portland, for anti-submarine warfare and general seamanship training. It was whilst at Portland that the ship was chosen to portray the fictional frigate HMS Saltash Castle in the film "The Cruel Sea". The pennant number, changed to F362 in 1948, was still retained during the film. The film starred Jack Hawkins, Donald Sinden, Denholm Elliot and Virginia McKenna in a documentary style account of life on board a British warship during the Battle of the Atlantic in World War II. I recently corresponded with a lady whose father joined the Royal Navy in 1951 as a National Serviceman and served on the Portchester Castle during the filming. The filming was done at Portland and in the Channel and at one time several members of the ship's company were sent over the side, covered in grease, to play shipwrecked survivors. He doesn't believe they received any royalties! HMS Portchester Castle continued serving with the 2nd Training Squadron until June 1956 when she was relieved by the Type 14 frigate HMS Keppel.
In 1956 the ship was laid up in reserve at Devonport. She was destined for scrap in 1958 but on the 15th May, while in tow of the tug Brigadier, she broke adrift but was later brought into Milford Haven. On the 17th May 1958 she arrived at Troon for scrapping. The ship's bell today hangs in Cobham Hall, the Scout Hut in White Hart Lane.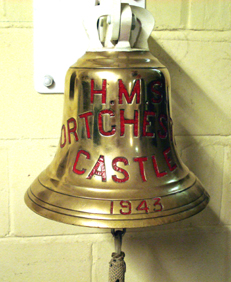 Contributed by Paul Woodman
---
We hope this will be the first of many thumb - nail sketches of Portchester's past, a past that goes back to early Stone Age times. Evidence of human occupation has been found at Red Barn on the slopes of the old chalk cliffs which once marked the sea boundary of the north of Portsmouth harbour.
The village grew up in historic times round a spur of land where the Romans built a fort to defend the local area from maritime invaders in the third century A.D. The fort encompassed some nine acres ( nearly four hectares ) with a wall and towers that still exist. Inside are a medieval church, St. Mary's, and a moated castle. The church is the local parish church and English Heritage are responsible for the castle. Both have had a fascinating history and welcome visitors.
By 1914 there were about 1,000 people living in Portchester. Since then the population has grown to some 20,000 in the 2001 census, mostly working in Portsmouth, 7 miles ( 12 km. ) to the east, in Fareham, the town of our urban district council, or in Southampton, 10 miles ( 17 km. ) to the west.
Contributed by
Bryan Jerrard
---
Portchester's history is dominated by the castle, which is essentially and originally a Roman fortress. The walls, some 180 metres long from north to south and slightly more from east to west, are among the best preserved in northern Europe and are some 5.5 metres high to the wall-walk. Built of coursed rubble and mainly flint with elements of red tile and stone, they were once some 3 metres thick at ground level.
To the right of the Land Gate in the west wall one may see in a long stretch how different gangs of builders were allocated their different sections of work. The gateways were built in the centre of each wall, the main gates being to the east and west and lesser gates, posterns, to the north and south. Twenty round bastions at regular intervals were built and some 15 have survived until today. A Norman castle was constructed in the western corner.
The original Roman fortress was built at the end of the 200s AD and was part of a chain of coastal defences from The Wash, round Kent and Sussex to Southampton and to Cardiff. Most were placed under the command of an officer called the Count of the Saxon Shore whose job was to protect ships in harbour on both sides of the English Channel and the empire from incursions by Saxon invaders.
Those defending the fortress were not high status Roman soldiers and archaeological evidence points to their withdrawal by about 369, a generation before the general withdrawal of Romans from Britain in about 410 AD.
Contributed by Bryan Jerrard
---
A series of invasions by Saxons from north Germany, of Angles from southern Denmark, Jutes from Jutland, Franks from northern France and Frisians from the Low Countries threatened and then overwhelmed the Roman occupation of the south east in general and the Portchester area in particular. A wonderful exhibition, "The Invaders" was on at Westbury Museum in Fareham until early May, 2004, based on some evidence from Hampshire.
This exhibition clearly showed that the work of archaeologists has been fundamental in much of our understanding of the Anglo-Saxons. They have also left their imprint in other ways; they gave us the name of our country, Angleland; very many of our place names, "ham" meaning village; the names of days of the week after their gods, "Odin" and "Frigg" for examples; our earliest written laws; and contributed to our language, "wedde" meaning an oath (thus wedding). Evidence of a Saxon boat came to light in the north of Langstone Harbour in 2002/3. Then, timbers of oak, dated at about 500 AD, were carefully noted and rescued.
The timbers were some 80cms wide at bow or stern, suggesting a boat of indeterminate length, from 1.5m to 6m. One day these remains will be exhibited in the Portsmouth Museum. Saxon remains have been found in the Portchester Castle area. Their discovery and recording by Professor Barry Cunliffe in the 1960s and 1970s and published in Vol. 11 of his report provide us with some remarkable evidence. At p. 236 experts suggest from bone evidence that the mean age of death of men was 36.75 years and 27.14 for women, and three children probably died at the age of seven. Among 9 males, their heights were about 5.9 feet and for six women the height was about 5.5 feet. (The exhibition in Fareham also shows the skeleton of a young man).
Evidence of pottery, both simple and decorated, has survived and bones from their rubbish pits (see Vol. 111, p.215) show that their diet consisted of sheep and pigs (rather than cattle and deer) and chickens, teal and ravens. Our next Perspective will show the beginnings of written evidence in Anglo-Saxon and Viking times.
Contributed by Bryan Jerrard
---
Evidence of a Saxon settlement in Portchester may be clearly seen in the wide archaeological surveys by Cunliffe's team in the 1960s and 1970s within the castle grounds, southwest of the present churchyard wall. Post hole evidence suggests that some dwellings, 12ft. x 14ft., were occupied by an extended family; while larger structures, 18ft. x 26ft. or 14ft. x 36ft. with evidence of buttressing, were Saxon hall buildings creating an enclosed courtyard. Post holes were from some 8in. to 21in. diameter and sunk up to 30in. deep. Evidence of ploughing, cess pits, wells and 'Portchester' pottery were found, the pottery style being wheel-turned and reddish brown after firing. Coins suggest C9th and C10th occupation.
Anglo-Saxon England was divided into several kingdoms and our area was dominated by King Ine of Wessex. He codified laws in c.690 staring Ic, Ine, mid Godes gife Wesseaxna kyning (I, Ine, by Gods grace King of the West Saxons) and shows that he called all his leaders together to publish the laws. Portchester appears for the first time in written history in 904. This was when King Edward the Elder of the west Saxons gave land to the Bishop of Winchester, who held Portchester in exchange for its use as a military base. In the burghal Hidage of 920, Portchester appears in a listing of 30 burhs (towns, settlements, old Roman forts and even promontories) no further than 20 miles apart, a day's march, in Wessex. They formed a network to withstand the mobile Viking armies.
The Hidage represented a hide of 120 acres and each defensive place was accorded one man per hide for its defence. Portchester was accorded 500 hides so that, altogether, some 27,000 men were available to defend these 30 places. Wareham was specially founded at this time with a rectangular perimeter, Southampton's economic growth was encouraged and Winchester grew within its Roman walls. These burhs successfully kept out Viking raids in Wessex in the late C9th and had been brilliantly planned by Alfred the Great.
Contributed by Bryan Jerrard
---
Now and again someone asks the question, is there now, or has there ever been, a ghost at Portchester Castle? There are one or two stories of ghostly happenings within the Castle walls having been seen or written about. Probably the earliest account is that repeated in Cooke's "Portchester Castle". It concerns an incident said to have taken place during the occupation of the Castle by prisoners of war during the Napoleonic period, and the encounter of one of the sentries in the graveyard behind the Church.
He is reputed to have seen 'a tall shadowy figure, clad in a snow white garment'. The guard fired at the apparition but apparently missed. The Officer of the Guard rushed up with a file of Militiamen. The officer advanced to tackle the figure but was hurled backwards. The ghostly figure fled and when the sentry at the gate opened the wicket gate to admit reinforcements he was thrown to the ground violently by the 'flitting spirit'. The mysterious being was chased by the Regimental Drum Major and on capture was discovered to be the Regimental Goat Mascot. It seems the goat had been standing on its hind legs, browsing on the clumps of Valerian growing on the walls.
My second story happened not quite so long ago. It was recounted to me by an old resident who had connections with one of the participants of the escapade, and is about the 'White Lady' said to haunt the Castle. No doubt many old residents will remember the story, but not what actually gave rise to the legend.
In the early years of this century a group of Portchester youngsters were in the habit of going to the Castle in the early evenings to occupy their time. One of them was prone to playing practical jokes on his companions. One evening he managed to creep into the Castle without being seen and he took with him a large white sheet. When the lads entered the Castle he suddenly appeared in the gloom dressed in the sheet. It scared the others out of their wits. They fled but soon discovered one of the party was missing and knowing his aptitude for playing jokes, realised who the "Ghost" was. The episode was recounted so often that the yarn became a sort of legend in the district. Some years ago the local press published a story of a prominent novelist who, with his wife had seen a mysterious ghostly figure appear in one of the window embrasures. However no other visitor seems to have encountered such a phenomenon.
During the last war, a defence balloon unit was stationed in the Castle grounds and as far as is known nothing more ghostly than a hooting owl was seen during its sojourn there.
Contributed by Arthur Watson
---
On July 26th, 1929, the cruiser HMS Devonshire was engaged in gunnery practice off the Greek coast when a gun misfire initiated a fault in the drill procedure, causing the loss of life of 18 members of the crew. An 8" gun in a twin turret failed to fire after being made ready with shell and cordite and firing circuits completed. The failure was due to the cordite, in a thin sack, failing to ignite. The gun's crew failed to appreciate the fault and, in the heat of noise and urgency, opened the breach. The inrush of air into the gun enabled the cordite, that was "cooking" (a naval term for such happening), to explode and cause a massive loss of life.
As was normal in those days, the after turret was manned by a crew of Royal Marines who were fully qualified, as with the Royal Naval gun crews, so the majority of casualties therefore were Royal Marines. A young naval officer, Midshipman Cobham, and others were soon on the scene and proceeded to render as much aid and succour as possible. For this gallantry, he and an Able Seaman were awarded the Queen's Gallantry Medal, replaced in 1940 by the George Medal. After a distinguished naval service the then Commander Cobham lived in Castle Street, Portchester and spent much of his long retirement dedicated to the Scouting movement.
In recent years the scout hall in White Hart Lane was renamed Cobham Hall, a tribute from the Portchester community to a fine public servant. As for the gun designers, a quickly produced safety mechanism was designed, known as a Hangfire latch, a pendulum type of device that required the gun to fire and fully recoil before the breech could be opened. It was possible to operate the latch and thus avoid the safety feature but it had to be a quite deliberate act with some dexterity employed. Later gun design, when quick firing as opposed to breech load guns appeared, ensured guns had to fully recoil to eject a cartridge case and the earlier safety problem was resolved.
Contributed by Reginald Ash
---
Extract from "The European Magazine and London Review" Jan. 1801
Transport Office, 11th.Sept. 1800
Sir,
We include, for your information, a copy of a letter which we have this day received from Mr. Holmwood, the agent for prisoners of war at Portchester and also a copy of the one therein referred to from several French prisoners confined at that place, stating that they are in a very miserable condition from the want of clothing. We cannot pass this opportunity without again recommending to your most serious attention the absolute necessity that there is of causing some clothing to be distributed among the French prisoners without delay.
Rupert George
Ambrose Serle
Joseph Hunt

M. Otto (No. 19)
Portchester Castle
10th Sept. 1800


Gentlemen,
I beg leave to enclose you a letter I have this day received from the prisoners at this depot, stating the deplorable state they are in from want of clothing;
I have the honour to be
(Signed) John Holmwood

Commissioners for the Transport Service etc. (Translation)
Portchester
10th Sept. 1800

The French Prisoners of War, to Mr. Holmwood, Commissioner at Portchester Castle,

Sir,
You have so often and so generously given us proofs of your feelings for our unfortunate situation, that we believe we may implore, through you, a relief the most most urgent; as it becomes indispensable. It cannot be necessary to lay before you a minute picture of the state of nakedness to which we are reduced; a state the more deplorable, as our debilitated bodies are the more susceptible of the severity of the season, and the want of repose. The many sufferings we endure from the total want of clothing and other necessaries of this kind, are already so well known to you, that there can be no difficulty in your interceding in our favour. We cannot doubt of your complying with our expectations in this respect, or at least, that you contribute every means in your power to alleviate the misfortunes of persons sinking under the weight of calamity; and. you will be these means, add to the respectful sentiments with which we are etc. signed by a considerable number of prisoners

Material provided by Mr. A. P. SHEER of Portchester

Contributed by Sue Bell
__________________________________________________________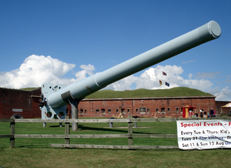 Standing proudly outside Fort Nelson and trained as if to fire across Portchester is a battleship's 14-inch gun barrel.

Portchester Civic Society member Reginald Ash, himself an ex Royal Navy Weapon Engineer, has researched the history of the barrel with the assistance of Philip McGrath, Curator of Artillery at the Royal Armouries, Fort Nelson.

The gun at Fort Nelson was number 136, which is the last one manufactured by Vickers Armstrong in 1946. It went to Woolwich in 1947 for proof firing and was certainly still there in 1949. Shortly thereafter, probably between 1956 and 1958 it went to the Royal Ordnance Factory, Kings Road
, Nottingham as a static exhibit. There it remained until it was removed in 2002 to Fort Nelson. This was due to the owners of the site at the time, British Aerospace, clearing the area prior to selling the land so the gun could easily have been scrapped had they not taken it in. It is now one of the major attractions at the Fort.

Mr Ash has also provided the following article regarding 14-inch guns in use.

In 1941 during World War II, the battleship HMS King George V, armed with ten 14-inch guns, was involved in the conflict with the Bismarck, pride of the German Fleet, as HMS Hood had already been sunk and Churchill was keen to mobilise all available resources to exact vengeance.

K.G.V. was ready with her armament available after preliminary firing practice of her main guns had taken place. The P.F.P.s, as they were known, involved the fitting of a smaller gun in the barrel of the main gun and firing six pounder rounds, to prove accuracy of the main armament. The fitting of the sub calibre gun, as it was known, was a very exacting and skilled process as failure to ensure concentricity of the new item could result in damage to the parent gun from eccentric rounds.

The damage to the rifling of the parent gun became apparent on removal of the six pounder when attempts to pass the plug bore gauge through the main barrel were unsuccessful. Drastic measures were considered and the favourite was to haul a man through the barrel who was able to have sufficient skill and dexterity to use a hammer and cold chisel! The person in question had also to be slender and fit. An Ordnance Artificer, Wilfred Dunbavand, fitted the role and he entered the barrel at the breech end where damage had to be minimal. He laid on a lightweight metal tray with the plug bore gauge attached to the rear of the tray, while the front of the tray was to be pulled by a rope fed from the muzzle end. After extremely arduous physical effort and ingenuity he emerged from the muzzle, covered in scratches to his entire body, as the contour of the rifling was razor sharp.

Some ten years later, in 1951, I was to serve with Wilfred in the destroyer HMS Zodiac, when he, reluctantly, divulged a brief reason for his wearing the Oak Leaf decoration. I was unable to find a citation of the award in the 1941 London Gazettes but I have been assured that, in wartime, events in the field of conflict could merit Commander in Chief's having total authority for such action as awarding the Mention in Dispatches citation "in the field". Needless to say, the gun in question played its part in the sinking of the Bismarck.

We have recently received an email from Lorayne Emery with more details of this event; Lorayne wrote "Wilfred DunBavand was my father and the record of his being mentioned in Despatches in the London Gazette appeared in the Supplement to the London Gazette dated 8th June 1944, page 2609, halfway down on the left hand column. The supplement was numbered 36544. I actually have this copy. I must also mention that OA Third Class, Arthur Rothwell P/MX62798 was also involved in freeing the shell. They were the only two people in the crew that were small enough to be pushed inside. They could only stay inside for about 15 minutes at a time due to the freezing weather conditions. They were covered in grease in order to project them up inside the gun. We only found out the actual details when Dad died and his life long pal told us. It was something Dad didn't talk about although he regaled us with all his time in post war service. He never talked about the war except to say he spent his 21st birthday chasing the Bismark."
Contributed by Reginald Ash
_________________________________________________________
Remember the old Royal Hospital in Portsmouth, now the site of a Sainsbury's supermarket near the ferry port.
Built to serve the city and surrounds including Portchester, creation of the Portsmouth, Portsea and Gosport Hospital had depended on locals raising building and running costs. Land was leased for a peppercorn rent from the government's Ordnance Board.
When Queen Victoria's husband Prince Albert laid the foundation stone on September 27, 1847, Portchester folk could take pride in having helped the appeal. A record of monies raised between opening year 1849 and July 1897, pinpoints several modest subscriptions to the £12,697 total.
A Mr John Read of Portchester gave ten guineas (£10.50), an impressive amount when well-known Portsmouth families like Brickwood had donated twenty-five guineas. There were three guineas from a Mr H Calloway and one guinea from Mr Heard, of "The Jungle", now the home of the Portchester Sailing Club.
Employees of Leigh and Co., Portchester's historic pipe factory, raised 15 shillings and two pence (c 76p) when the hat was passed round whilst pupils of Portchester Board School, Castle Street, collected two pounds, seven shillings and two pence (c £2.28).
Contributed by Bryan Jerrard
---
Robert English will not hum that old Bing Crosby favourite if you ask does he know the bells of St Mary's. The enthusiast who renewed traditional bell ringing at Portchester's Anglican church knows its bells up close and personally.
As Bell Tower Captain he trains a team of enthusiasts in the techniques and mystique of campanology and would welcome more ringers. "Bell ringing goes back hundreds of years. When we ring at St Mary's it really is all due to Queen Elizabeth 1. When she visited her castle at Portchester and saw the church had no bells she said she wanted some here. Her order was obeyed.
The tower carries a ring of three bells. The earliest dated 1582 weighs 7.5 cwt and carries the inscription "Obey God and the Prince. Next up and weighing almost 8 cwt was cast in 1632 by a travelling bell founder John Higman. The following year a Chichester man William Wakefield made the treble third bell. There are no records of how the bells reached Portchester and were hoisted into position.
Amazingly they hang on the original wood frame. When an expert from Whitechapel Bell Foundry inspected the bells in the 1880s he recommended a modest strengthening of the frame and a rehanging in new fittings.
Civic Society member and church guide Bryan Jerrard has a copy of the churchwardens records showing the work cost £50 and 5pence, plus a further £11 10 shillings in 1914. "Interestingly I've come across the church bill for new bell ropes in 1772. It was £13 4 shillings compared to £300 this year.
Mr English said, "Bell ringing as we know it is a purely English exercise. As our empire expanded settlers took the tradition to Australia, New Zealand, Canada and parts of The United States.
I have been ringing since I was 15. Bells summon you to church and are rung for weddings, funerals and some special occasions. They were silenced during World War 2 to be rung only if we were invaded. They sounded round the land when victory was declared.
When I came to Portchester regular bell ringing had become sporadic. Now I have a good team to call on but could do with some more. It's difficult to hear the bells from beyond the castle walls so when we stop ringing five minutes before the service, some people have to gallop to get here.
To ring every tuneful permutation depends on the number of bells in a tower. For instance, if a tower has twelve bells as at St Thomas' Cathedral in Portsmouth, it would take 37 years to ring all the changes. There is a church in Birmingham with 16 bells. It has been calculated that the task would take 2 million years.
Bell ringing is a fascinating pastime and I'd be happy to hear from anyone wanting to know more about the bells, the tower and the skills. Mr English also teaches a mini version of campanology to his team of hand bell ringers who also would welcome some newcomers.
He can be contacted on 023 92 326560.
Maggie Beddoes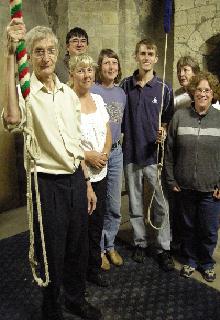 Bell Tower Captain Robert English with fellow campanologists Sue Carpenter, Katrien Burrows, Daniel Carpenter, Theresa Gapper, Brian Musgrove and Wendy Pyatt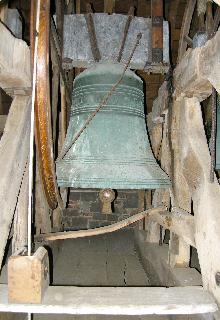 The 8 cwt bell cast in 1632
---
"Messing about in boats" has always been a constant hobby of Howard Williams but perhaps better known to older members of Portchester and Hillhead Sailing Club as "Wheezy". It is an unfortunate nickname originally acquired when he first went to Price's Grammar School due to him being an asthma sufferer. His interest in sail boats began in the 1940s when he helped Commander Hammond, Portchester Sailing Club's Commodore; build one of the many Portchester Ducks that the Commander had designed.
The Duck proved to be an ideal trainer for use in Portchester Lake. At Price's Grammar School Howard learnt woodwork which ever since he has put to good use. In the 1940s he also helped build, with a friend, a Yachting World Cadet whilst in the 1970s he raced a school-built wooden Mirror dinghy at Portchester Sailing Club. When his career in teaching took him to Bermuda in the 1990s he organised an extra-curricular boat building course at his school.
The budget being small he drew up plans for a single-chine gunter-rigged version of the Enterprise to be built, which the then Prime Minister, John Swann came to see. As it was the first wooden sail boat designed and built in Bermuda for many a year the plans and progress photographs were displayed in the Bermudian Maritime Museum. Later he moved to Toronto where at Danforth Collegiate, having the same budgetary problem, the school under his guidance built a larger version of the Firecrest sailboat design then followed it with a Shellback sailboat. Since retiring to Tobermory, with Lake Huron nearby, he has built two New Zealand Firebugs and three Portchester Ducks as well as an International Enterprise using local materials. However he has resorted to buying sails from Lucas Sails in Portchester and buoyancy bags from Port Solent.
The last of three Portchester Ducks was built to order and shipped to Tony Bailey, his Price's School mate. Tony is better known as an international author, Anthony Bailey, now happily retired and sailing his new acquired Duck somewhere in Essex. As is to be expected he remains a dedicated member of his local Tobermory Yacht Club and the two Ducks have been much admired by both members and visitors.
David Williams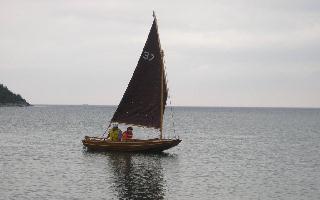 The Canadian version of a Portchester Duck named "Old Squaw" sailing at Dunk's Bay, Tobermory
---
On a sunny day in June 1933 the music of old England rose above the walls of Portchester Castle. Thanks to Portsmouth Centre of the Old English Folk Dancing and Song Society enthusiasts from a 20-mile radius flocked to the elaborate party. The event was part of the celebration of the 800th anniversary of St Mary's parish church within the walls. The Hants Chronicle reported that spectators from France and even from India mingled with crowds of 700 enjoying dance and songs from centuries ago.
A Portchester showroom for vintage luxury limousines is unwittingly continuing the tradition of horsepower at the premises. For the showroom near the junction of Cornaway Lane and White Hart Lane is all that remains of Little Wicor Farm. The farmhouse and main buildings were pulled down to make way for a terrace of nine houses. In autumn 1991 a Mr R. Sanden told Fareham History Society that as a 7-year old in the 1930s he had lived at the farm and remembered the present showroom had begun life as the farm's stables.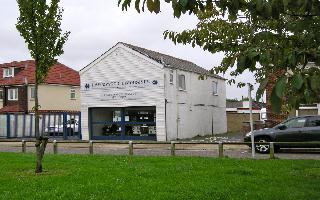 Some three story houses now occupy the former farm stables and the more recent Lawnswood site
Today's burning question of the replacement of Portchester Community Centre also was a hot topic in March 1978. A newspaper report described the centre as "close to disaster" when fire roared through an old railway carriage close to the centre's store of heating oil. Flames as high as the building engulfed the carriage used for storing drama gear and baskets for racing pigeons. Luckily there were no major losses.
July 31 1970 was a sad day for sailors of The Royal Navy, many of whom had chosen Portchester as their home base. It was the date the Admiralty Board ended the daily issue of rum, a tradition going back more than 300 years. The daily ration was first introduced as a substitute for beer. Prior to 1740 men received 1 pint per day drunk neat and double before and after a battle. After that date Vice Admiral Vernon decreed a daily half-pint only, to be added to a quart of water. Embittered sailors dubbed the weakened mixture grog, derived from the Admiral's nickname Old Grogums after the unusual French fabric grosgrain used for his overcoats. Further cuts followed. In October 1850, The Illustrated London News reported on a circular from Queen Victoria to all captains and commanders. While salt meat, sugar, mustard and pepper were to be issued daily, spirits were to be reduced with money in lieu for the lower ranks. Her Majesty decreed, "In respect of the lower ranks, the grog allowance will be halved. There will be no more grog in the evenings and no grog at all for cadets. The day of the final issue became known as Black Tot Day. Civic Society member Paul Woodman, a guide aboard HMS Victory, was on duty on anniversary day. "A party of ex Royal Navy men came aboard so we all had a tot and drank a toast to Nelson at the spot where he fell.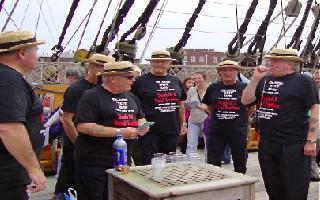 Piping "Tot's up" on HMS Victory's quarterdeck
Maggie Beddoes
---
The c18th was a time of many changes in the country and world at large but not so many in the parish and village of Portchester. Nationwide we had a German king George 1 -unable to speak English that led to the need for the first prime minister, Robert Walpole, 1721-1742. It was a time of great national pride with naval and military victories that gained us Gibraltar, Newfoundland and Minorca in 1713. To this was added Canada, most of India, the islands of Tobago, St Vincent, Dominica and Grenada in 1763. Church bells, described elsewhere by Maggie Beddoes, rang out the news of victories in 1759, when national figures thought that the bells would be worn out! But in 1783 we LOST the 13 American colonies!
WORK AND RENTS IN PORTCHESTER IN THE 1700s
For most in the parish, custom was the essence of life. this can be seen in the transcription of the rules governing the customs of farm work and tenure in Portchester and Wicor. The details below refer to the Wicor rent roll and show the work and rents payable to the lord of the manor in the Portsmouth Records Office. The details go back to the 1400s; the ones we have are from the 1560s under Elizabeth 1 and were written up in the 1700s. They clearly show security of tenure to tenants, the rules for inheritance by widows and children, work expected and rents due. These rules persisted to beyond this period.
To sustain the manor in 1763, just two years after Francis Grose drew the parish church illustrated above, details from a small group of tenants illustrate life in the 1760s. Thirteen tenants paid 44 bushels of wheat as part of their rent. They included widow Irons - ten bushels - William Cleverly, nine, Richard Whiting senior, 13, and Thomas Hellyer seven, harvested from his 12 acres scattered in the three main fields of Portchester. Some paid less, not in bushels but in Pecks (two gallons), in Pots and in Pints. There were no national standards in weights and measures until Victorian times but there was a Winchester Bushel at this time. Today a bushel is about 36 litres in capacity.
Chicken keeping, if not chicken farming, must have gone on in Portchester at this time! In the same record, we meet widow Irons again, providing 179 eggs - worth 22p as part of her dues, Richard Whiting Sen., 149, worth 16p, William Cleverly paid 127 and Thomas Hellyer paid 99 eggs. Some tenants, like Master Boulton paid one egg and James White only two. In total some 746 eggs were provided, worth 91p.
LOCAL HELP FOR THE POOR IN PORTCHESTER
It is possible to see in the 1700s how those with more humble lives than most of the farmers above were cared for. This was long before the days of social services and social security. With the closure of the monasteries that had hitherto supported the poor at their gate and by the time of Elizabeth 1 provision had to be made to look after the poor. Fortunately for us, there is a Portchester Poor Book, that has survived from the mid 1700s that provides many details of the support made available (Ref: Record Office CHU 27/2A/2.) Much of this work was sustained by the two, local church wardens, an office that goes back to the late 1200s.
Supporting them were successive vicars and overseers of the poor in the 1700s. These overseers were men, elected at parish meetings in the church, often after a Sunday service, with the specific role of supervising relief of the poor. It was this group in a parish meeting that agreed the 6d.(2 1/2p) in the £ of rents paid quarterly by householders in the mid to late 1700s.Thus someone with a house rent of £8 a year paid 4/-( 20p) p.a. Over four quarters. This provided an annual income of some £95.15p in 1762-1763. Expenditure, checked by two JPs, rarely exceeded income.
Some examples show the range of help given. In the 1760s and 1770s shifts for two women cost 61p to buy and make, Thomas Turner was given leather breeches costing 12p and William Sturgess had shoes for Sundays costing £2.30p. Three shirts cost 10p and a handkerchief was 5p. For Mrs Privet, shirts, a coat, waistcoat, breeches, a frock and a hat cost £1.22p. In January 1764 Mr Hellyer supplied her with 15 faggots for 10p.
When widow Privet died in 1764 a coffin- 45p-a shroud-17p- while the grave cost 17p to dig, a nurse for two weeks at 40p a week, and a black cloth- 2p; in all some £1.75p was spent. Besides, bread, cheese and beer at her wake cost 30p and her house rent had been paid for a year, another 67p. She had been supported for 30 weeks at 10p a week. When Francis Carpenter accidentally fell under the fore wagon wheel, when loaded and was killed, the jury's expenses were 50p at the inquest.
There were many examples of children being looked after by others when some 7p a week was paid, usually in lump sums every half year. The constable had to send to Winchester Portchester's annual share of the county rate of £3.22p and William Hellyer regularly sent off the parish's annual sub to the county hospital in Winchester of £1.05p to provide a bed when needed by a parishioner. Dr Staunton's bill for medicines in January 1764 for Richard Upfield came to £1.60p; I wonder if they were effective!
Portchester even had a Poor's House; the annual rent of £5 was paid out of the rates as well as running costs and furniture where the desperately poor could be housed. This was a wonderful asset that is a brilliant illustration of the level of human care in the c18th. The rating showed that there were two pubs, The King's Arms, Duckett House? - and the White Lion and farms of various values. Morralls was some £150, Parsonage Farm was £165 and Wicor Farm some £53. A malthouse was worth £9.33p in rent, Horsey Island £8 and the vicar paid 27p for his Glebe land valued at 10 guineas.
The whole book, densely written and with huge detail, gives us a remarkable picture of a caring community organised by parish leaders from the church vestry.
Bryan Jerrard ©
---