'Portchester in Living Memory'
Portchester Civic Society's Oral History Project
Funded by the Heritage Lottery Fund and a grant from Fareham Borough Council, a group of Society members volunteered their time over a two year period to produce an Oral History of Portchester people's memories of the area. Over 60 residents, aged from 10 to over 90 years old, gave their recorded recollections of life in Portchester.
From these recorded memories the Society has produced a 52 page, illustrated book 'Portchester in Living Memory'. In addition we have produced a cassette tape, suitable for the visually impaired, and a CD of extracts of the recordings which is especially suitable for schools.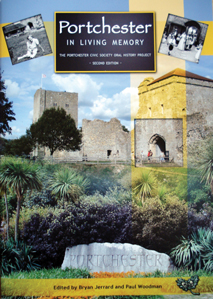 The book is available locally (
LV Noon Estate Agents & the Church Tea room)
or can be purchased for £8.00 + £1.50 postage and packing from;
(Please make cheques payable to the 'Portchester Civic Society')
'Portchester in Living Memory'
Edited by Bryan Jerrard and Paul Woodman
------------------------------------------------------------------------------------------
Proceeds from Early Sales of Book
Donated to Portchester AFC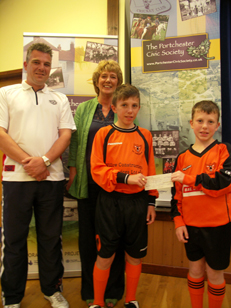 At a meeting of the Portchester Civic Society on the 15th May 2007, the Chairman, Hazel Woodman, presented Mark Baxter and his sons, on behalf of Portchester AFC, with a cheque for £1000 towards the Football Club's appeal for floodlighting their pitch at the Wicor. The money was donated from early sales of the book 'Portchester in Living Memory'. The Society is keen to improve the opportunities for leisure and sport in the area, especially for the younger members of the community and Portchester AFC has a strong junior membership of both boys and girls teams

.